self storage in burton upon trent
Premier self storage operate a modern self storage facility offering FREE 24 hour secure entry self storage in Burton-on-Trent.
All our self storage units are individually alarmed units and monitored 24/7. Reserve storage space instantly with just a few details. Our space is your space
"Always been very friendly, I have been storing with them for over a year and never had any issues, would highly recommend to anyone ?"
"Reception staff very friendly and efficient. Clean and tidy storage unit centrally situated with easy access. Always very efficient with administration"
Low prices and complementary 24/7 access
Our team are here to help

Regardless of your storage requirements our experienced team are available at our office in Burton. We have over 6,000 satisfied clients in our Burton facility
We will go that extra mile to ensure all your storage requirements are met. 
Office hours: Mon – Fri 09:00-17:00 & Sat 09:00-13:00.
 
 The Most Secure Self Storage Facility in Burton
We have over 480 self storage units at the Burton facility which offer the security of each and every unit being individually alarmed, full 24 hour CCTV, motion sensored lighting, and with the added reassurance that the site is fully monitored by the police.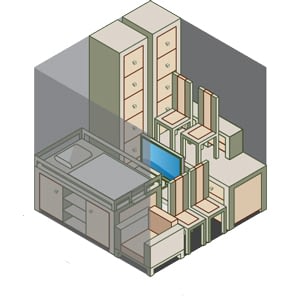 Self Storage Units in Burton 
Premier Self Storage offers over 20 different sized storage units.
Below is an approximate guide of 3 different sized storage rooms
Please view the full size guide here
Individual room dimensions may vary and are subject to availability. 
If we do not have the space you require, we automatically offer a free upgrade in size.
The check-in process is simple, view and select your room, make payment and move in.
30 sq. ft
£10.00/wk
24 hr access.  •  Minimum term just 7 days
•Insurance from 50p/wk per £1000 cover
•Storage for up to 30 small boxes
•Approx. 220 cubic feet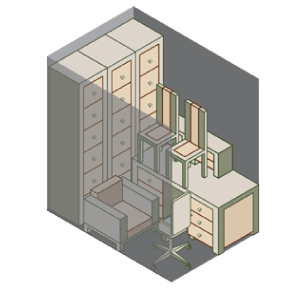 50 sq. ft
£16.00/wk
24 hr access.  •  Minimum term just 7 days
•Insurance from 50p/wk per £1000 cover
• About the size of half a single garage.
•Approx. 350 cubic feet 
200 sq. ft
£52.00/wk
24 hr access.  •  Minimum term just 7 days
•Insurance from 50p/wk per £1000 cover
•Storage for the contents of a 4 bed house / flat
• Approx. 1500 cubic feet 
PREMIER SELF STORAGE
NICOLSON WAY
BURTON-ON-TRENT
DE14 2AW
01283 243 002
admin@premier-selfstorage.co.uk
Get prices sent to your Email | Then, book your check-in | Prices excl. VAT