Burton-on-Trent Self storage

Premier Self Storage offer a modern secure self storage facility in Burton-on-Trent. Our clients enjoy FREE 24 hour secure entry self storage units for personal or commercial use.
Our space is your space
Nicolson Way Burton DE14 2AW | 01283 243 002
Burton-on-Trent Self storage

A modern secure self storage facility in Burton-on-Trent. Get FREE 24 hour secure entry self storage units for personal or commercial use.
Our space is your space
Nicolson Way Burton DE14 2AW | 01283 243 002
Individually Alarmed Units
HOW DO I GET STARTED?
Fill out the quote form

You can view sizes & prices on units here

Book your check-in (ID required)

At your check-in, you'll meet the team, get set up on our security and be able to confirm/change your room.

Start storing.

You will have access to your unit immediately after your check-in is completed and can move your goods in at any time thereafter.

Enjoy hassle-free 24/7 easy access.

No minimum term beyond your first 7 days and you can stay for as long as you like. 

The current record is over 10 years…

You can start storing as early as our next available appointment or book an appointment for a time that suits you.

When you're ready to leave just empty your unit and let us know you've left via email or on the phone, we don't need notice in advance.
Get in touch!
Don't be shy! We'd like to help
01283 243 002
Mon – Fri 09:00 – 17:00 Sat 09:00 – 13:00
VIEW ALL UNITS
We'll send a price to your email
Minimum term just 7 days. No cancellation charges 
Premier Self Storage
Reception and Burton self store
Security is our No.1 priority
We have over 480 self storage units at the Burton facility which offer the security of each and every unit being individually alarmed, full 24 hour CCTV, motion sensored lighting, and with the added reassurance that the site is fully monitored by the police.
No long term contracts.
Our minimum term is just 7 days. After your initial week in storage you are under no obligation to continue storing with us. You are free to vacate your unit when you wish. We only ask that you leave your self storage unit in the condition you found it in upon vacation as set out in our terms and conditions. We will go through the full terms and conditions during your check-in and for added peace of mind, you will also be given a paper copy.
Our team are here to help

Regardless of your storage requirements our experienced team are available at our office in Burton. We have had over 6,000 satisfied clients in our Burton facility.
We will go that extra mile to ensure all your storage requirements are met.
Office hours: Mon – Fri 09:00-17:00 & Sat 09:00-13:00.
Reception & Burton Self Store: Premier Self Storage Nicolson Way Burton-on-Trent DE14 2AW
Never pay more for your space
We have over 20 different sized units available at our Burton-on-Trent self storage facility. With storage units ranging from a small 10 square foot unit to our "XL" 200 square foot you will never have to pay for your storage space than necessary.
 FREE 24/7 Access To Your Unit
Whether they are moving home or growing their small businesses we believe that all our clients deserve the right to have seamless 24 hour access to their self storage units with no restrictions. 7 days a week, 365 days a year.
Our most popular units in Burton-on-Trent 
Premier Self Storage offers over 20 different sized storage units.
Below is an approximate guide of 3 different sized storage rooms
You may view the full size guide here
Individual room dimensions may vary and are subject to availability.
We'll show you your unit when you come to check-in before we take any payments.
All units are 8.6 feet high.
30 sq. ft
£10.00/wk
24 hr access.  •  Minimum term just 7 days
•Insurance from 50p/wk per £1000 cover
•Storage for up to 30 small boxes
•Approx. 220 cubic feet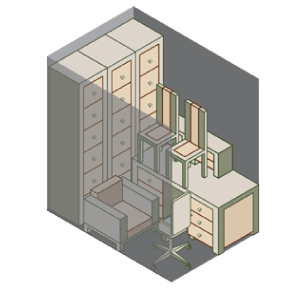 50 sq. ft
£16.00/wk
24 hr access.  •  Minimum term just 7 days
•Insurance from 50p/wk per £1000 cover
• About the size of half a single garage.
•Approx. 350 cubic feet 
200 sq. ft
£52.00/wk
24 hr access.  •  Minimum term just 7 days
•Insurance from 50p/wk per £1000 cover
•Storage for the contents of a 4 bed house / flat
• Approx. 1500 cubic feet 
PREMIER SELF STORAGE
NICOLSON WAY
BURTON-ON-TRENT
DE14 2AW
(We are just off Wellington Road between the big Morrisons and the BP Garage) 
01283 243 002
admin@premier-selfstorage.co.uk